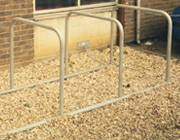 STANDARD/ADULT BIKE RACKS
Model 1 - Stands without crossbrace

Overall width 860mm x Overall height 880mm.
Stands at 800mm centres
No. of Bikes supported
6
8
10
No. of Hoops
3
4
5
Overall length
std/adult rack mm
1700
2500
3300
Reference
20070
20072
20074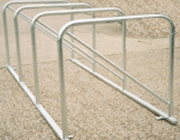 STANDARD/ADULT BIKE RACKS
Model 2 - Stands with crossbrace, provide additional chaining points, e.g. for bikes without crossbars.
Overall width 860mm x Overall height 880mm.
Stands at 800mm centres.
No. of Bikes supported
6
8
10
No. of Hoops
3
4
5
Overall length
std/adult rack mm
1700
2500
3300
Reference
20090
20092
20094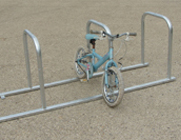 JUNIOR/CHILDREN'S BIKE RACKS
Ideal for schools nursery's etc.

Overall width 650mm x Overall height 700mm.
Stands at 700mm centres.
No. of Bikes supported
6
8
10
No. of Hoops
3
4
5
Overall length
Junior rack mm
1500
2200
2900
Reference
20100
20102
20104