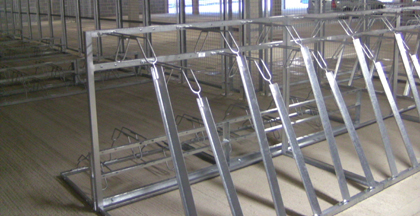 MINIMUM FLOOR AREA, IDEAL FOR CONFINED SPACES.
CYCLE RAILS SUITABLE FOR BOTH STANDARD AND MOUNTAIN BIKES.
Easy to position cycles in rack using run-up trough.
Front wheel is 'captured' until user lifts cycle out, thus minimising risk of accidentally dislodging cycles.
Welded steel construction, weatherproof galvanised finish.
Base and rear frame predrilled for fixing to ground and/or wall.
Cycle rails arranged in high/low positions at 300mm centres to minimise rack width.
Welded base frame and welded rear frame. With bolt-in rails for on site assembly.